Province reaches out to global Belt and Road partners with top-quality agricultural products, technologies
China's southern province of Hainan is using policies granted by the central government as well as its tropical resources to set up more exchange platforms and expand cooperation with countries and regions involved in the Belt and Road Initiative, according to provincial government officials.
Hainan will highlight the role of agriculture. Efforts are being made to promote the island as a national tropical agricultural science center, a transport hub of global animal and plant germ plasm resources, a pilot zone for eco-agriculture and a platform supporting exchanges, said the officials.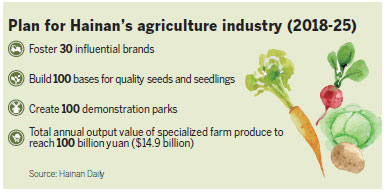 Hainan's advantage lies in its tropical resources, allowing Hainan to push tropical agricultural collaboration with countries taking part in the initiative, said Liu Cigui, Party secretary of Hainan province. He made the comments during a visit to the China (Hainan) International Winter Trade Fair for Tropical Agricultural Products. The fair attracted more than 6,000 visitors in December.
He said Hainan can bring more benefits to people in countries and regions involved in the initiative by selecting and cultivating high-quality plants, optimizing agricultural structures and liberalizing the agricultural market.
A total of 138 companies from 34 countries involved in the Belt and Road Initiative participated in the fair. They brought with them 400 kinds of products - Brazilian steak, Malaysian Elvis Durian, Vietnamese coffee, French wine, latex mattresses from Thailand, Sri Lanka's black tea, Bulgarian rose oil and Nepalese exquisite crafts.
"Sri Lanka and Hainan have similar farming patterns. We hope Hainan will bring more advanced planting and processing technologies to Sri Lanka, to help us increase crop yields and industrialize our traditional tropical agriculture," said a Sri Lankan official at the fair.
Liu said the growing influence of the winter fair, which was launched 21 years ago, indicated bright prospects. This is in terms of cooperation and advanced agriculture techniques and plant exchanges between Hainan and countries taking part in the BRI.
Overseas investors have shown keen interest in Hainan, especially its agricultural market. In April 2018, the central government decided to make the island a free-trade zone. They will gradually develop it into a free trade port with Chinese characteristics.
Pule, a major farm produce company in Australia, runs a branch company in Haikou, the capital of Hainan. "We will introduce Hainan's seedless litchi to Australia while bringing Australian mango to Hainan. We are preparing a base here to introduce more agricultural products, such as broccoli, blueberry and sweet pepper from Australia," said Ji Zhaozhi, chairman of the company.
"Development of the Hainan Free Trade Zone will expand market access and attract more foreign investors to Hainan's seed industry and farm produce processing," said Xu Zhongyuan, deputy director of the trade promotion center under the Ministry of Agriculture and Rural Affairs.
Xu said the ministry supports Hainan in developing export bases for produce to help grow agriculture in the province.
The local government is building an international trade and shipping hub. It is also promoting the connection of air and sea routes between Hainan and the countries and regions involved in the BRI. This will cut logistical costs of agricultural produce and help agricultural trade, he said.
"The Chinese Academy of Sciences will join Hainan in building a pilot seed industry. We will work together to develop a demonstration park for agricultural technology innovation and transfer of hybrid rice to countries involved in the BRI," said Cao Jinghua, director of the international cooperation department with the academy.
Sanya, a city at the southern tip of Hainan, plays an important role in the development of hybrid rice. The cereal has since spread to more than 30 countries, especially Southeast Asian countries. The total crop area of hybrid rice is more than 7 million hectares worldwide by now, providing food to millions of people.
Hainan's tropical climate and rich biological resources have made it an important national center of seed propagation. Every winter, more than 7,000 domestic agricultural scientists and employees work at the offseason breeding centers, with Sanya as the main base.
A batch of Chinese seed-breeding enterprises have set up research and breeding bases in countries taking part in the BRI. The overseas seeds research and development center of Yuan Long Ping High-Tech Agriculture has established seven breeding stations in the Philippines, India and other countries. Tianjin Tianlong Technology, by relying on the Hainan National South China Breeding Research and Development Service Platform, has established an Asian Agricultural Technology Center in Indonesia and introduced its products to European and American markets.
Xu Yun, director of the Hainan provincial agricultural and rural affairs department, said Hainan's climate and China's technical know-how in hybrid rice will help Chinese seed propagation companies play a bigger role in implementing the BRI.
Hainan is building the National (Qionghai) Pilot Zone for International Agricultural Cooperation and the China-Cambodia Tropical Eco-farming Cooperation Demonstration Zone. The province has also launched programs of technological transfer and training for these countries, with support from the Chinese Academy of Tropical Agricultural Sciences.
To date, Hainan has 346 hectares of demonstration bases for banana, pepper, cassava, durian, coconut trees and rubber trees in Kratie, eastern Cambodia, according to official statistics.
In 2019, Hainan will focus its overseas cooperation on seed and seedlings with countries taking part in the BRI, especially Israel, Sri Lanka, the Philippines and Thailand, said Xu, director of the Hainan agriculture department.
Hainan will also establish tropical agricultural bases for international scientific and technological cooperation with countries involved in the initiative. Technology transfer and joint research will be strengthened with Southeast Asian countries, African countries and nations in the South Pacific region, according to a report from the province's agriculture department.
By joining hands with the Chinese Academy of Medical Sciences, Hainan will set up bases in Myanmar, Cambodia, Vietnam and Laos to help them to develop Chinese herbal medicine.
Fields featuring 31 major hybrid rice varieties grown in countries involved in the Belt and Road Initiative are attracting crowds of tourists at the Sanya Haitang Bay Paddy Field National Park. The 186-hectare national park boasts a total of 500 rice varieties and demonstrates good integration of agriculture and tourism.Photos Provided To China Daily
Farmers in Bhaktapur, near Kathmandu, capital of Nepal, visit a hybrid rice field grown with seeds developed by Chinese scientists in Hainan, which largely improved local food production.
Responsible editor: 石一涵